Filipino MIT graduate who got perfect 5.0 GPA shares pandemic challenges
GMA News – Published June 11, 2021 1:25pm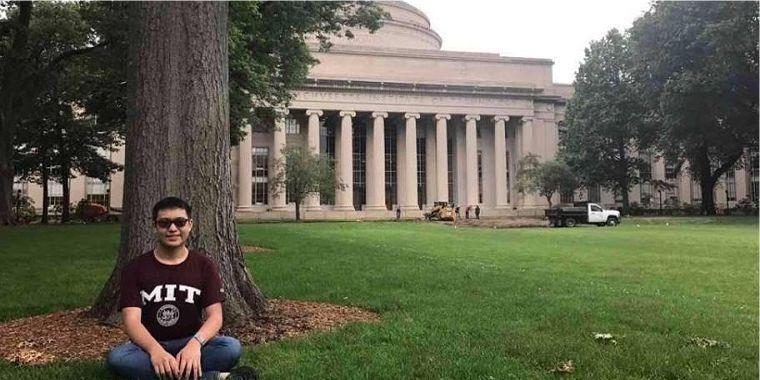 Filipino math genius Farrell Eldrian Wu once again earned high praise after graduating at the top university in the United States and receiving a perfect grade point average (GPA) of 5.0.
But even for Wu, a 20-year-old Massachusetts Institute of Technology (MIT) graduate, learning amid the COVID-19 global crisis was a challenge.
In MIT, 5.0 is a perfect mark, meaning the student received "A" in all graded classes.
"There were logistical challenges I would never forget, such as having to move eight times over a twelve month period due to dorm closures and temporary housing arrangements," said Wu in an email to GMA News Online.
He said the MIT community was able to assist him in addressing these logistical issues.
On top of his own studies, Wu also does campus teaching. He is the founder and head instructor for for-credit student-run classes in the MIT Electrical Engineering and Computer Science department.
The department classes include 6.S087 (Mathematical Methods for Multidimensional Statistics) and 6.S095 (Intermediate Probability Problem Solving), according to Wu.
He shared that a "major challenge" he had due to the pandemic was to adjust to online format by preparing lecture slides and using Zoom for his campus teaching, where the number of students who signed up had increased.
Despite this, Wu was still thankful and fulfilled having helped hundreds of students in their classes.
"There were also many more students who signed up compared to a typical year, and many needed more support, so I adjusted by providing more office hours. While this experience made for a difficult six weeks, I felt very fulfilled afterwards for reaching over 400 students with this initiative," said Wu.
For his own online classes, Wu said he was fortunate enough to navigate his online resources.
"Back in high school, to supplement the team training I received from professors at UP (University of the Philippines) and ADMU (Ateneo de Manila University), I relied on online materials," he pointed out.
Saying that he puts little emphasis on his GPA, Wu noted that he sought to learn advanced materials where he is "most interested in" so that he can apply it to his future studies.
"I later on realized that as long as I set a realistic yet high bar for my learning and understanding, typically to the point of being able to explain each concept to a peer and understanding the range of its real-life applications, good grades would follow," Wu said.
Wu joined the MIT commencement for Class of 2021, which was held last June 4 (US Time), online due to pandemic restrictions. MIT is ranked as the top university globally in the recently-released 2022 rankings by the think-tank Quacquarelli Symonds.
He graduated with a Bachelor of Science in Computer Science and Engineering (MIT Schwarzman College of Computing) and Bachelor of Science in Business Analytics (MIT Sloan School of Management). Apart from these, Wu also completed a minor in economics at MIT School of Humanities, Arts, and Social Sciences.
Filipino, MIT community
Citing the African proverb, "It takes a village to raise a child," Wu attributed his accomplishment to the support and encouragement he received from his MIT community as well as his Filipino family and friends.
"To this end, this accomplishment is largely dedicated to my family, teachers, mentors, friends, and the Filipino community who gave me countless opportunities to discover and develop my quantitative talents. Hanggang sa muli, para sa bayan!" he said.
Asked about his reaction on getting a perfect GPA, he said: "I feel overflowingly blessed and grateful for surviving MIT!"
No less than Vice President Leni Robredo, who personally knew Wu, congratulated him on his successful journey at one the best universities in America.
"It was no surprise that he got into the best Ivy League schools in the US when he applied for college. Also no surprise that he chose MIT, which is one of the most difficult to enter into. I knew he would excel even in MIT but to have a perfect GPA is no mean feat. Congratulations," Robredo said on Facebook.
What's next for Farrell Wu
After graduation, Wu said he will be joining one of the largest fintech companies in the world as he enters the "full-time journey" of the finance industry.
"I was fortunate that despite the pandemic, I was able to receive employment offers from multiple companies," said Wu.
On the other hand, Wu advised Filipinos aspiring to attend college in the United States to embrace "diverse and supportive community" which is a characteristic of all top American universities.
"These universities make it a goal to attract students from a wide range of backgrounds, in terms of their upbringing, culture, academic interests, and extracurricular pursuits, so it is important not to waste this component of a holistic education," he said.
He also pointed out that when choosing colleges in the US, aspirants must find an institution that is aligned with their values and an environment that would help them thrive rather than pick schools just for their rankings or prestige.—AOL, GMA News
SOURCE: https://www.gmanetwork.com/news/scitech/science/791133/filipino-mit-graduate-who-got-perfect-5-0-gpa-shares-pandemic-challenges/story/