Workers mark Labor Day with protest, call for wage subsidy
GMA News – Published May 1, 2021 12:54pm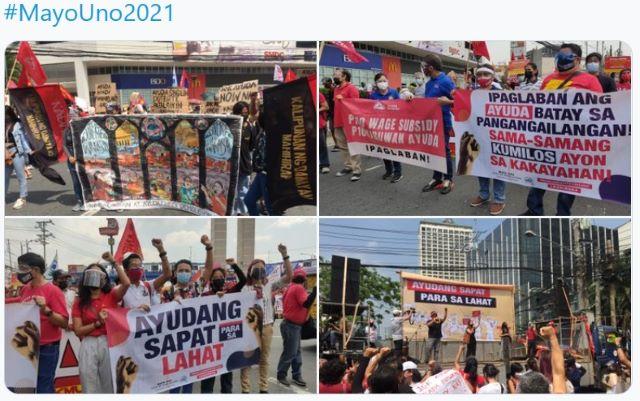 Various groups gathered at the Welcome Rotonda area in Quezon City to call for wage subsidies as they mark the 119th International Workers' Day on Saturday.
Kilusang Mayo Uno (KMU) called for P100 daily wage subsidy for all workers; P10,000 cash aid for displaced workers and vulnerable sectors; P15,000 production subsidy for farmers; and wage subsidy for workers in the micro, small and medium enterprises sector.
KMU was supposed to conduct their protest at the Liwasang Bonifacio in Manila but they were prevented by police officers of the Manila Police District (MPD).
The group joined other labor organizations at the Welcome Rotonda to push through with their protests.
"Labor Day should honor workers but the PNP is insulting us by depriving us of our right to air out grievances. Liwasang Bonifacio is a freedom park and the police should back off. The protests will push through despite this harassment," said KMU chair Elmer Labog.
Apart from KMU, other progressive groups that mark the Labor Day with protests include Anakpawis, Bayan Muna, Kilusang Magbubukid ng Pilipinas, PAMALAKAYA, among others.
Shortly before the start of the Labor Day gathering in Manila, police personnel stopped a convoy of jeepney carrying workers joining the 9 a.m. rally and impounded the vehicles at the MPD Station 4. —LBG, GMA News
SOURCE: https://www.gmanetwork.com/news/news/metro/785844/workers-mark-labor-day-with-protest-call-for-wage-subsidy/story/