Thousands more Victorian homes under threat as floodwaters surge
By Raffaella Ciccarelli • Producer
9:36am Oct 17, 2022
Rivers continue to rise in Victoria threatening thousands of homes, forcing more evacuations and leaving communities without power.
The crisis comes as Australia's east coast braces for further thunderstorms this week, renewing flooding fears for Victoria, as well as New South Wales and Tasmania.
In total there are just over 60 flood warnings in place across Victoria, stretching just north of Melbourne to the NSW border – and the water keeps on surging.
Residents in Bunbartha and Charlton are urged to evacuate, while those in Orrvale, Murchison, Kialla West and Mooroopna are advised "it's too late to leave" and to "shelter in the highest location possible".
READ MORE: Today weather presenter spots looters in flood-hit Melbourne suburb
https://platform.twitter.com/embed/Tweet.html?dnt=false&embedId=twitter-widget-1&features=eyJ0ZndfdGltZWxpbmVfbGlzdCI6eyJidWNrZXQiOlsibGlua3RyLmVlIiwidHIuZWUiLCJ0ZXJyYS5jb20uYnIiLCJ3d3cubGlua3RyLmVlIiwid3d3LnRyLmVlIiwid3d3LnRlcnJhLmNvbS5iciJdLCJ2ZXJzaW9uIjpudWxsfSwidGZ3X2hvcml6b25fdGltZWxpbmVfMTIwMzQiOnsiYnVja2V0IjoidHJlYXRtZW50IiwidmVyc2lvbiI6bnVsbH0sInRmd190d2VldF9lZGl0X2JhY2tlbmQiOnsiYnVja2V0Ijoib24iLCJ2ZXJzaW9uIjpudWxsfSwidGZ3X3JlZnNyY19zZXNzaW9uIjp7ImJ1Y2tldCI6Im9uIiwidmVyc2lvbiI6bnVsbH0sInRmd19jaGluX3BpbGxzXzE0NzQxIjp7ImJ1Y2tldCI6ImNvbG9yX2ljb25zIiwidmVyc2lvbiI6bnVsbH0sInRmd190d2VldF9yZXN1bHRfbWlncmF0aW9uXzEzOTc5Ijp7ImJ1Y2tldCI6InR3ZWV0X3Jlc3VsdCIsInZlcnNpb24iOm51bGx9LCJ0Zndfc2Vuc2l0aXZlX21lZGlhX2ludGVyc3RpdGlhbF8xMzk2MyI6eyJidWNrZXQiOiJpbnRlcnN0aXRpYWwiLCJ2ZXJzaW9uIjpudWxsfSwidGZ3X2V4cGVyaW1lbnRzX2Nvb2tpZV9leHBpcmF0aW9uIjp7ImJ1Y2tldCI6MTIwOTYwMCwidmVyc2lvbiI6bnVsbH0sInRmd19kdXBsaWNhdGVfc2NyaWJlc190b19zZXR0aW5ncyI6eyJidWNrZXQiOiJvbiIsInZlcnNpb24iOm51bGx9LCJ0ZndfdmlkZW9faGxzX2R5bmFtaWNfbWFuaWZlc3RzXzE1MDgyIjp7ImJ1Y2tldCI6InRydWVfYml0cmF0ZSIsInZlcnNpb24iOm51bGx9LCJ0ZndfdHdlZXRfZWRpdF9mcm9udGVuZCI6eyJidWNrZXQiOiJvbiIsInZlcnNpb24iOm51bGx9fQ%3D%3D&frame=false&hideCard=false&hideThread=false&id=1581801175577284609&lang=en&origin=https%3A%2F%2Fwww.9news.com.au%2Fnational%2Fvictoria-floods-update-thousands-more-homes-under-threat-as-floodwaters-surge%2F583a4f3d-001c-4c1e-b003-18381530198c&sessionId=c7b740295cf3088f725788604f4dd18db38433db&siteScreenName=9News&theme=light&widgetsVersion=1c23387b1f70c%3A1664388199485&width=550px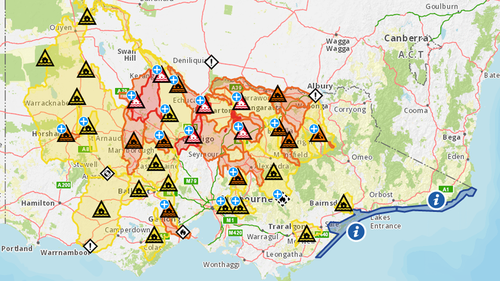 There's also major concern for the regional centre of Shepparton today, with the Goulburn River expected to peak at a record 12.2 metres.
But Today reporter Christine Ahern explained another situation is unfolding as saturated catchments merge into one other.
"It's sitting just under that at the moment but we have a situation where creeks are converging with the river system and the water is also coming up through the drains," she said.
"The prediction from authorities is over 7000 homes will be impacted in the Greater Shepparton area; 2,500 of those inundated."
READ MORE: How Victoria's floods crisis will affect the cost of living in Australia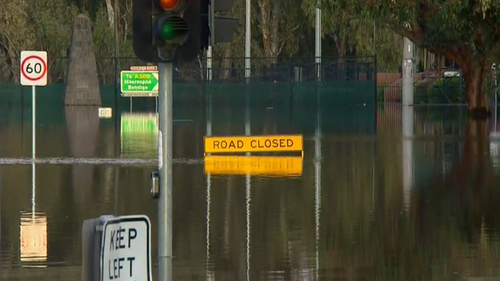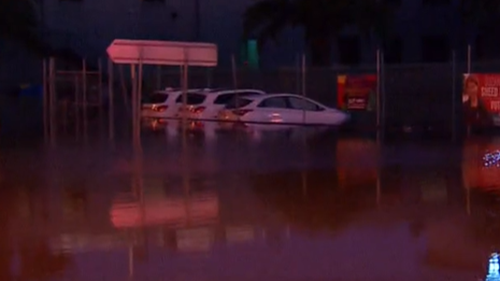 Emergency Management Commissioner Andrew Crisp said the peak will hit "later this morning."
"Our focus is on ongoing rescues in the Shepparton, Mooroopna area," he said.
"With Echuca we had the first peak, slightly receding at the moment but we know when the water from the Goulburn hits the Murray, we will have a second peak Wednesday or Tuesday in Echuca, so very focused on that.
"And looking at the communities north of Charlton where we have an evacuation order in place."
READ MORE: Casino to be hit with $100 million fine over criminal activity
The SES says they have performed 173 rescues just in the last 24-hours alone; the majority around Shepparton.
Victoria Emergency has issued an alert to residents in low-lying areas along the Campaspe River from Barnadown to Rochester to move to higher ground as the river is still in major flood.
The community is in mourning after Kevin Wills, 71, was found dead in floodwaters in the backyard of his Rochester home on Saturday. His wife was trapped in the property and evacuated following the discovery.
Dozens of homes are already underwater at Echuca, with the Campaspe River peaking yesterday afternoon.

READ MORE: Victoria could see 'some of the largest evacuations' in the state's history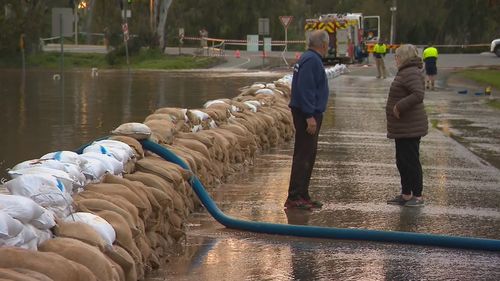 However, Mayor for the Campaspe Shire Chrissy Weller said between 400 to 1000 homes could be impacted by the second peak at Echuca.
"As the Campaspe has come into here, into Echuca, it hits the Murray," she said.
"For the river it is like hitting a brick wall because the Murray is up so high.
"It was 94.23 at 5:00 this morning at Echuca , at the wharf, and 94.4 is our major flood level.
"And we have got the Goulburn then with flood rates coming in in two days time.
"We know it is not over here for us at Echuca, as obviously rain as well as the actual Murray River water comes down past us."
READ MORE: Victorians impacted by floodwaters eligible for emergency payments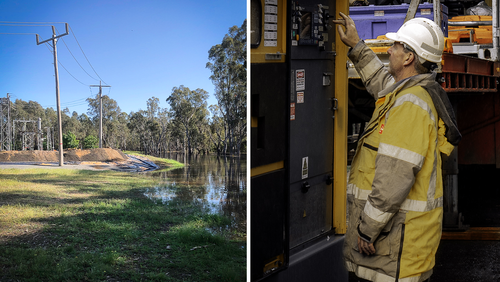 And the neighbouring townships of Mooroopna and Kialla are cut off from each other.
Mooroopna's power station had to be switched off yesterday as it went under, so thousands of residents will be without power for days.
Dozens of roads have been closed across the state after floodwater inundated them.
Residents can stay across all closures here.
About 100 defence personnel have been deployed to the state to help with evacuations and sandbagging.
Flooding across Tasmania's north and north east is also causing destruction.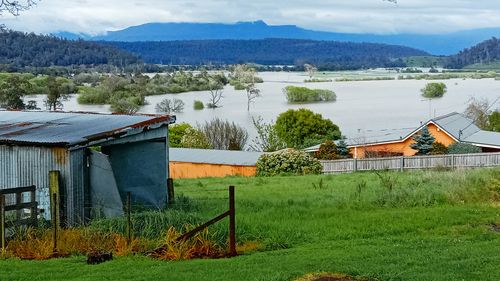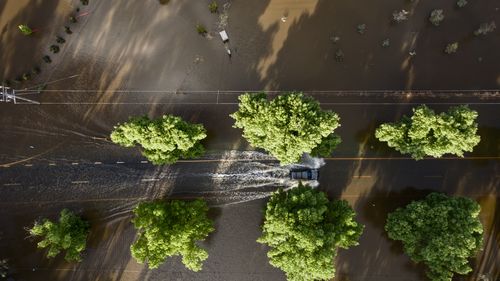 There are several flood warnings still in effect for the state with areas around the Meander River and Macquarie River on highest alert.
Residents can stay across flood warnings here. 
Floods are also threatening central western NSW, with 75 SES warnings in place across the state.
"The focus over the next 24 hours will be the mid Murray and Edward Rivers," it said in a statement.
"Flood levels have already exceeded the 2016 levels and are looking to exceed the 1993 flood levels at Ecucha and Moama. Other locations significantly affected include Forbes, Narrandera, Wee Waa, Warren, Nanami, Jemalong and Barham."
Prime Minister Anthony Albanese has announced one-off flood payments for flood victims across Tasmania and Victoria.
The affected can access payments of $1,000 per adult and $400 per child.
""This support is of course small compensation but it does mean people are getting that support on the ground and we will make that available," he said.
"And that information will be available from [Sunday] afternoon to ensure the money can flow immediately."
The payments come in addition to disaster recovery allowances already available in the states.
SOURCE: https://www.9news.com.au/national/victoria-floods-update-thousands-more-homes-under-threat-as-floodwaters-surge/583a4f3d-001c-4c1e-b003-18381530198c