400 PGH health workers positive for COVID-19
By JOAHNA LEI CASILAO and GISELLE OMBAY, GMA News
Published January 10, 2022 3:47pm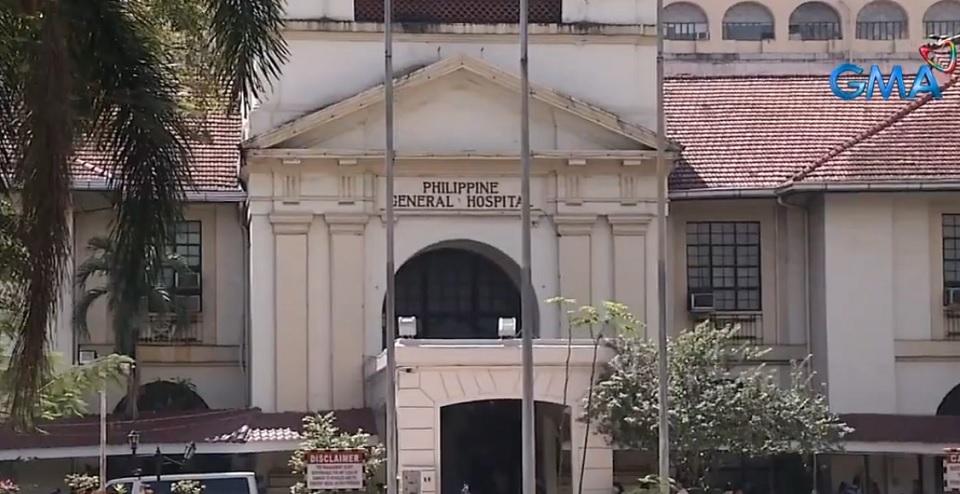 Almost 400 Philippine General Hospital healthcare workers have tested positive for COVID-19, the PGH's spokesperson said Monday.
According to Dr. Jonas del Rosario, the hospital reported 86 new cases on Sunday night.
"Just last night, more healthcare workers were tested and we added about 86… so if you do the math, 310 plus 86, we're almost close to 400 healthcare workers who got COVID," Del Rosario told CNN.
"Some of them are probably towards the tail-end of their isolation, so we're getting some of them, but it's so fluid that every day, we are testing healthcare workers because some of them are really getting symptomatic," he added.
Three to four staff get exposed for every COVID-positive healthcare worker. Due to this, he said the hospital would need augmentation.
"I'm already seeing some key areas being affected. For example, you probably heard already. 'Yung aming paanakan po ay sarado for the past five days," he said.
(Our maternity ward has been closed for the past five days.)
Del Rosario previously said fully vaccinated healthcare workers that were exposed to COVID-19 but were asymptomatic would still report for work.
"When we say asymptomatic, they are COVID-negative. People, I think, had this notion that we are sending healthcare workers who have COVID infections back to work as long as they are asymptomatic. Hindi po 'yun," he said.
Asked if exposed healthcare workers have a high likelihood of being positive, Del Rosario said they do not as they are fully vaccinated and are wearing personal protective equipment.
"Hindi. Kasi una, fully vaccinated ka, pangalawa these healthcare workers when they actually come to work, they're mostly wearing masks. And then when we ask them to go back to work, they're also wearing the proper PPE," he said.
(No, because firstly, they are fully vaccinated. Second, these healthcare workers when they come to work, they're mostly wearing masks.)
Meanwhile, there are currently 265 COVID-19 patients admitted in PGH, of which around 25% are mild, 35% are moderate, and 20% are severe, and 10% are in critical condition.
"We still have severe to critical patients. We are a COVID-referral center so a lot of the mild cases who come to us, we actually do not admit to reserve the beds for the ones who really need them," he said.
At the Laging Handa briefing, National Task Force against COVID-19 special adviser Dr. Ted Herbosa said the PGH would open two more COVID-19 wards.
"250 na 'yung aming pasyente namin dito sa PGH. Hundred percent na 'yung aming COVID wards. In fact 'yung gagawin namin, mago-open kami ng dalawa pang wards na 35 beds each para matapatan namin 'yung nangyari nung Delta," he said.
(We have 250 patients here in PGH. Our COVID wards are at 100%. We will open two more wards with 35 beds as we did during the Delta surge.)
Due to the increasing COVID-19 cases, Herbosa said that the chances of treating the non-COVID patients were getting slimmer.
The Philippines on Sunday logged a record-high 28,707 new COVID-19 infections, raising the country's total tally to 2,965,447, with active cases now over 128,000.
"Kung araw araw ganitong numero ang matatanggap natin, mapupuno ang ating emergency room at magkakahirapan tayo sa paggamot sa kanilang cases na nangangailangan ng oxygen at ospital," he added.
(If we receive these many COVID patients every day, our emergency rooms will get full and we will have a hard time treating those who need oxygen support and hospitals)
Herbosa added that booster vaccinations at the PGH had been suspended due to a lack of doctors and nurses. — DVM, GMA News
SOURCE: https://www.gmanetwork.com/news/topstories/nation/817630/400-pgh-health-workers-positive-for-covid-19-spokesperson/story/?just_in