Lava-cation: Start Planning Your Hawaii Volcano Holiday
June 23, 2015 Witnessing red-hot lava explode from an erupting volcano has always been on my personal bucket list. But since volcanic eruptions are unpredictable and rare, it was one natural wonder I assumed I'd never see.
Witnessing red-hot lava explode from an erupting volcano has always been on my personal bucket list. But since volcanic eruptions are unpredictable and rare, it was one natural wonder I assumed I'd never see.
0
That all changed on a recent visit to the Big Island of Hawaii where by sheer chance I showed up on the very day a once-hidden lava lake atop Mount Kilauea burst into view after an unexpected surge in the magma bubbling beneath Hawaii's most active volcano. For a few glorious days in early May, huge crowds swarmed to the crater at the top of Kilauea to observe the spectacle.
And then, as suddenly as it had appeared, the lava lake once again disappeared from view, sinking below the rim of the crater out of sight.
Yet that might not be the end of Kilauea's latest outburst. Seismic activity and ground movement since the lava lake subsided a few weeks ago have convinced vulcanologists that something is afoot under the slopes of verdant Kilauea, and that another visible lava event might happen at any time. So if you too have "volcanic eruption" as yet unchecked on your bucket list, now might be the time to start planning a lava-cation to the Big Island.
Where to See Lava
0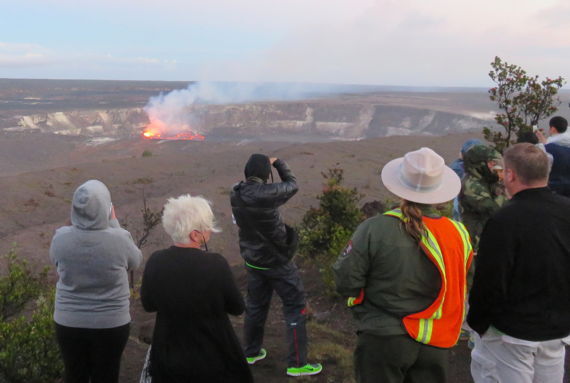 Perched on the rim of Kilauea's Halemaumau Crater, frequently shrouded in mist and volcanic gases, the Jaggar Museum lures lava-watchers from all over the world. But it's not the museum's exhibits they come to see, but rather the view from its courtyard out front (known as the Jaggar Overlook), one of the few places in the world where in complete safety and comfort you can gaze directly down into the heart of an erupting volcano - a bubbling, roiling lake of red-hot molten lava in Halemaumau Crater. What's frustrating is that the surface of the lake is usually too deep inside the crater to be directly visible from the Overlook, and a closer vantage point from which you canalways see the lake has been closed permanently due to toxic volcanic fumes.
Because of this, visitors in recent years usually arrive around dusk not expecting to see the lava itself but instead its intense red glow, which becomes increasingly vivid and sumptuous as night falls.
That's why the sudden rise of the lava lake in late April and early May made international news and brought tens of thousands of gawkers to the Jaggar Overlook -- causing miles-long traffic jams on winding mountain roads as locals and tourists alike rushed to witness the breathtaking vista.
0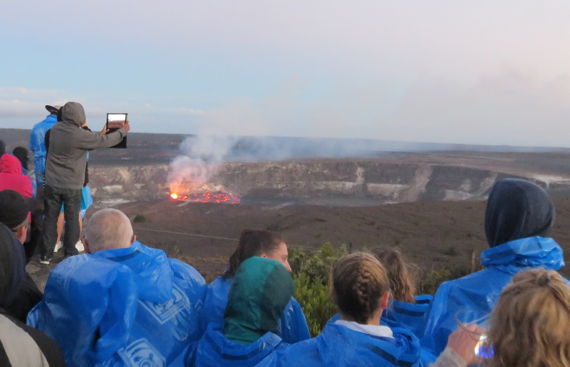 Even though the lake subsided in mid-May, a flurry of earthquakes and a fresh rise in the lava lake has scientists (and volcano bucket-listers) on high alert, as the swarm of recent activity at Kilauea's summit hints that more eruptions could come soon -- possibly very soon.
Hawaii's Big Island comprises the remnants of five volcanoes that have erupted from the floor of the Pacific Ocean. All five are in fact essentially the same volcano: As thePacific tectonic plate slowly moves over a stationary "Hot Spot" deep in the earth's crust, magma bubbles up creating first one volcano, then another, and another, all overlapping in a long line extending across the ocean floor. The entire Hawaiian island chain was created this way, but only the Big Island is still atop the Hot Spot, and only its two youngest volcanoes, Mauna Loa and Kilauea, still erupt.
0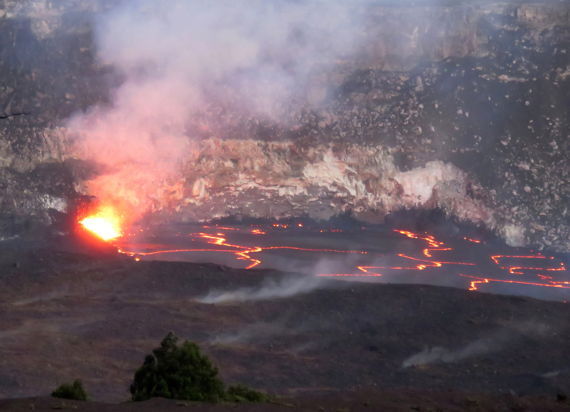 Even if Pele (the goddess of volcanoes) doesn't bless your quest with a display of molten lava, the area in and around Hawaii Volcanoes National Park, on the south slopes of Kilauea, is still a wonderland of volcanic adventures. "Musts" on any Big Island lava-cation include:
Hike across Kilauea Iki Crater
0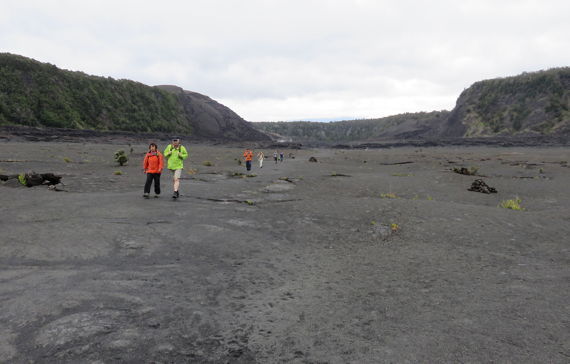 At the peak of Mount Kilauea are two magnificent craters: Halemaumau Crater is currently erupting in slow motion, and where you are most likely to see molten lava today. But just 56 years ago all the action was focused a few miles east at Kilauea Iki Crater, which in 1959 exploded in one of Hawaii's most spectacular recorded eruptions. The entire crater filled with a lake of molten lava which shot skyward in an awe-inspiring natural fireworks display. After the brief and unexpected outburst, Kilauea Iki went dormant as the Hot Spot continued its meandering migration to the next crater over, Halemaumau.
Since 1959, the lava lake in Kilauea Iki has cooled enough to be safe for walking on, and the National Park Service has marked a four-mile roundtrip trail across the crater's desolate moonscape. This hike, passing still-active steam vents and eerie lava sculptures frozen mid-eruption, is literally a descent into the belly of a volcano, an experience you will not soon forget.
Explore the Thurston Lava Tube
0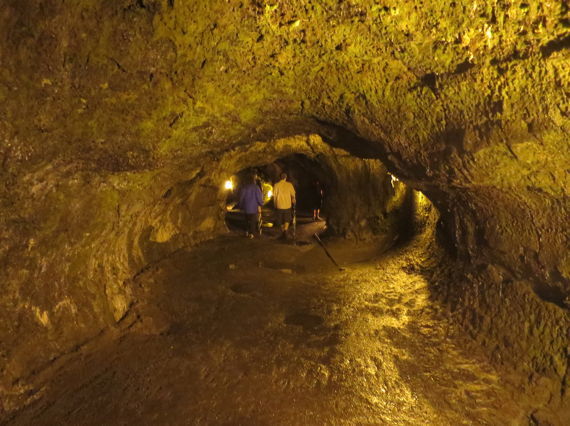 When a river of molten lava begins to cool, the top surface hardens first, while the protected lower layers remain liquid and continue to flow. Under the right conditions, this layered cooling can produce underground "lava tubes," extremely long hollow caves within the hardened lava where the still-liquid material drained out of a lower opening, leaving a subterranean labyrinth beneath the solidified ground above. Although lava tubes occur near volcanoes around the world, the quarter-mile Thurston Lava Tube is one of the safest, best-lit and most accessible examplesanywhere.
Dine at Volcano House
0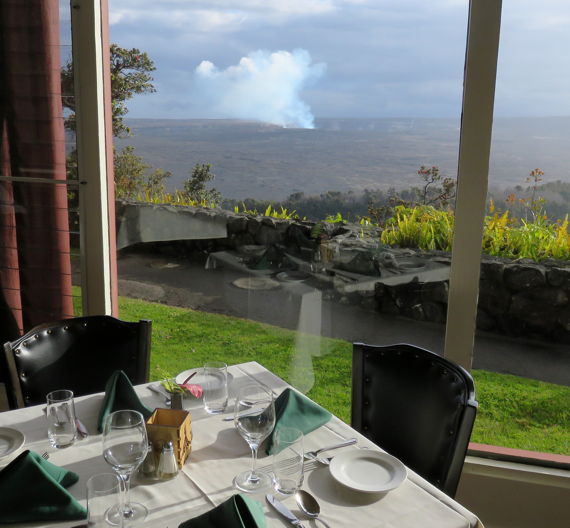 For a more genteel and relaxed volcanic experience, sit down for a meal at Volcano House, a rustic, rambling 1940s-era lodge atop Kilauea operated by the U.S. National Park Service; make sure to get a table with a view of the steam plume pouring out of Halemaumau in the distance.
Drive Chain of Craters Road
0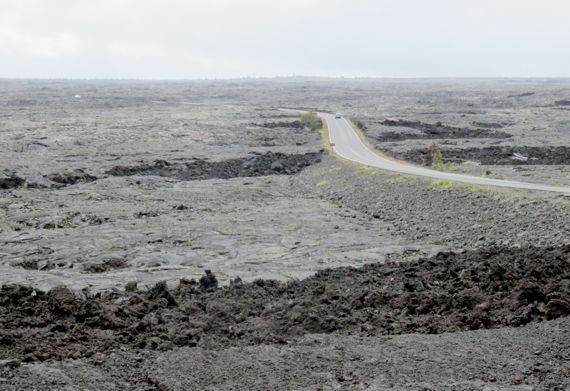 One of the most extraordinary drives in the United States, Chain of Craters Roadtraverses vast black expanses of recent lava flows as it descends from from Kilauea Iki down to the sea. Multiple eruptions on the flank of Kilauea over the last 40 years have obliterated the road over and over, but each time the road has been rebuilt on top of the latest flow. In 2015 it was significantly upgraded to serve as an emergency escape route for residents of the threatened Puna district, so this is the best time to experience what it might be like to drive across a barren asteroid.
That Puna district, around the town of Pahoa, south of Hilo, has watched nervously since 1983 as a slow-motion continuous eruption of Kilauea's "East Rift Zone" has occasionally menaced populated areas. But the area is not set up for sightseeing, and most of the lava is either underground or hidden in inaccessible (and privately owned) forested areas, so it's not recommended for rubberneckers.
While it's entirely possible to piece together all the elements of a volcano-themed daytrip yourself, many visitors opt for a guided tour which makes the whole day effortless: no need to rent a car, negotiate unfamiliar mountain roads, find hiking trails not always clearly marked, pay entrance fees, and so on. Best yet, tour operators like KapohoKine Adventures have reserved parking spaces right next to the Jaggar Museum, which are a godsend on crowded evenings when massive traffic jams en route to see the lava glow at dusk fill up every available parking space so that late-arriving independent travelers sometimes have to park miles back down the road and walk in. You can pick and choose from a variety of volcano-themed tours which take in many of the sights mentioned here.
0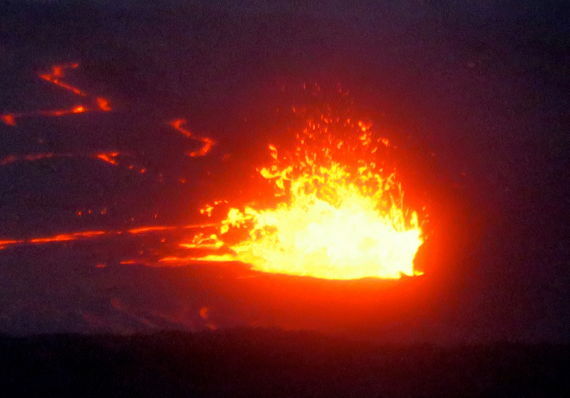 Keep an eye on the U.S. Geological Survey's daily Kilauea updates to make sure you don't miss another once-in-a-lifetime chance to fulfill a volcano-watcher's dream.
Source: http://www.huffingtonpost.com/kristan-lawson/lavacation-start-planning_b_7624564.html
Document Actions