Forest fire hits Lanao del Sur
By John Unson (philstar.com) | Updated January 22, 2016 - 9:46am Vast swaths of timberlands in mountain ranges in Lanao del Sur are being ravaged by forest fires since Thursday. Facebook/Drieza Abato Lininding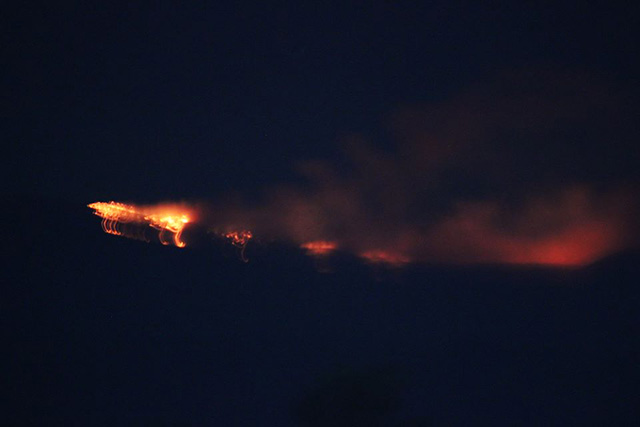 MARAWI CITY, Philippines - Officials on Friday urged the Philippine Air Force (PAF) to immediately monitor a big fire ravaging since Thursday vast swaths of tropical rainforests in watershed areas in Lanao del Sur province.
Vice Gov. Haroun Al-Rashid Lucman of the Autonomous Region in Muslim Mindanao (ARMM) on Friday said the fire in the densely forested mountain ranges somewhere in Butig town was noticed clearly Thursday night from certain villages along the Lake Lanao.
"Photos snapped via mobile phones were forwarded to me by constituents in Marawi City and in Lanao del Sur," he said.
Lucman said he had reported the forest fire to his superior, ARMM Gov. Mujiv Hataman, who, in turn assured to immediately coordinate with the Bureau of Fire Protection and the Armed Forces.
"This is the first time we have this kind of disaster in Lanao del Sur," said Lucman, himself an ethnic Maranaw from Bayang town in the province.
Lucman said local officials in towns around the forests now being destroyed by fire have confirmed, via text messages, that swaths of timberlands are indeed getting razed since Thursday.
Nation ( Article MRec ), pagematch: 1, sectionmatch: 1
"Just the same, we need aerial validation of these reports and the PAF can help us do it," Lucman said.
A popular Maranaw peace activist, Drieza Abato Lininding, said experts from the Department of Environment and Natural Resources (DENR) must be tapped to assess the extent of the forest fire.
He said text messages have been circulating in Lanao del Sur and Marawi City purporting that the most affected by the conflagration are timberlands in Mt. Pyagayongan and in nearby Mt. Mapantao in Lumba Bayabao town.
"We need confirmation and assessment of the situation by experts from DENR and other agencies of the government," Lininding said.
The burning forests are part of the watershed areas from where springs big rivers flowing downstream Lake Lanao, a geographical landmark in Lanao del Sur.
The water from Lake Lanao flowing downstream to Lanao del Norte and Iligan City propels several state-run hydroelectric plants supplying about three-fourths of Mindanao's daily power requirements.
Source: http://www.philstar.com
Document Actions