14 Filipinos among dead in Iraq hotel fire
(philstar.com) | Updated February 6, 2016 - 11:01am A police officer walks towards the scene of a fire in a hotel and adjacent massage parlor which has killed several people and injured others Frida, Feb. 5, 2016, in Irbil, capital of the Kurdistan region of Iraq.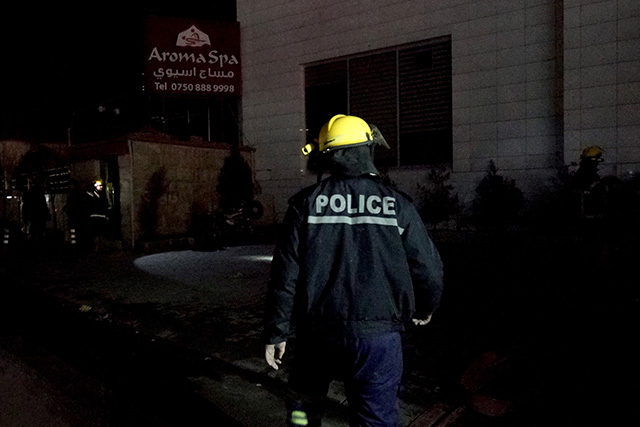 MANILA, Philippines — A fire that broke out in a hotel in Irbil, capital of the Kurdistan region of Iraq killed 17 people, 14 of which were Filipinos, according to embassy official.
"We will be taking the earliest flight tomorrow to allow us to coordinate closely with authorities of the Kurdistan Regional Government in identifying and repatriating the remains of our kababayans," said embassy charge d'affaires Elmer Cato.
"We would like to extend our deepest sympathy to the families of the victims and will do everything we can to bring them home as soon as possible," he added.
Nawzad Hadi, the governor of Irbil, said the fire broke out in the sauna of the Hotel Capitol at 4 p.m. on Friday.
The victims died after being trapped in a room at the massage center, where firefighters on the scene said had taken them around an hour to enter because of the strength of blaze.
The cause of the fire is still unknown. There were no early indications that the incident was a terrorist attack.
The Philippine government has repeatedly warned Filipinos in Iraq to exercise extreme caution and to limit movements due to bombings and other violent incidents.
The deployment of new Filipino workers to the country was also stopped because of the prevailing security. – Kristine Bersamina, with reports from the Associated Press
Source: http://www.philstar.com
Document Actions